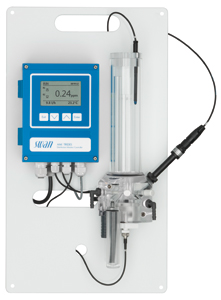 Microprocessor controlled system for the automatic and continuous measurement of disinfectants in potable water and swimming pools
Amperometric analyzer for disinfectants such as hypochlorous acid, free chlorine, chlorine dioxide, ozone, bromine, iodine.
Optional pH measurement for the on-line compensation of pH when measuring free chlorine.
No reagents, no consumables.
Factory tested and calibrated. Provides immediate results.
Options:
pH or ORP(Redox) electrode with cable (order separately)
Communication interface for transmitter
Specifications
Measuring and control transmitter in an aluminium case (IP 66) with overflow cell and sensors, mounted on PVC panel, ready for operation.
Two signal outputs for measuring value or continuous control, relays as limit switches or control, alarm relay as summary alarm indication, input for potential-free contact. Input for pH-compensation for the calculation of free chlorine.
Measuring ranges:
– Ozone: 0.000 to 1.000 mg/l
– HOCl, free chlorine: 0.00 to 5.00 mg/l
– Chlorine dioxide, iodine, bromine: 0.00 to 3.00 mg/l
Process connections:
– Sample inlet with adapter for flexible tube Ø 8 x 6 mm
– Sample outlet with adapter for flexible tube Ø 20 x 15 mm (1/2″)
Power Supply
-100-240 VAC (

±

10%)
-10-36 VDC
For further information see data sheet in downloads.
Contact us to place an order.