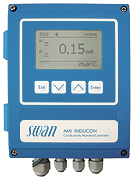 An electronic transmitter for continuous specific conductivity, concentration, salinity and Toal Dissolved Solids (TDS) measurements in industial plants water andwaste water.  The transmitters can be mounted on the wall. The case is made of aluminium and its protection degree is conformed IP66 / NEMA 4X, which makes it robust and able to withstand any condition.
Swan instruments are delivered as fully functional, ready-to-use instruments. This ensures easy system integration as well as user-friendly operation and maintainability. Each analyzer is thoroughly tested and factory calibrated prior to delivery. With its uniform menu navigation for simple operation and maintenance – one platform for all instruments. The self-explanatory maintenance procedures can be easily performed by the operating company.
Specifications
Conductivity measurement
with inductive (toroidal) conductivity sensor including integrated Pt1000 temperature sensor, e.g. SS Inducon1000
Measuring range
0.01 to 2000 mS/cm
Measurement error
<1%
Temperature measurement (Pt1000)
Measuring range
-30 to 250°C
Resolution
0.1° C
Power Supply
Voltage
100-240 VAC (± 10%)

50/60 Hz (± 5%)

or 10-36 VDC
For further information see data sheet in downloads.
Contact us to place an order.