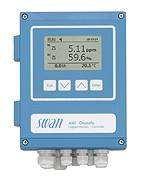 Electronic transmitter & controller for the measurement of the dissolved oxygen in potable water and effluents.
Connections for a three-electrode oxygen sensor with integrated temperature probe, e.g. Swansensor Oxysafe1000 and for a SWAN digital sample flow meter.
Temperature and air pressure compensation.
Specifications
Dissolved oxygen measurement
with dissolved oxygen sensor including integrated Pt1000 temperature sensor, e.g. SS Oxysafe 1000.
Measuring range
0.01 to 20 ppm
0 to 200% saturation
Resolution
0.01 ppm
Automatic temperature- and air pressure compensation.
Temperature measurement (Pt1000)
Measuring range
-30 to 130°C
Resolution
0.1° C
Sample flow measurement
with digital sample flow meter.
Power Supply
Voltage
100-240 VAC (± 10%)

50/60 Hz (± 5%)

or 10-36 VDC
For further information see data sheet in downloads.
Contact us to place an order.