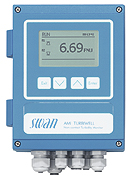 Electronic transmitter/controller for the measurement of turbidity; for wall mounting.
Measuring range: 0.000 to 200 FNU/NTU with a precision of +/- 0.003 FNU or 1% of reading.
For the use with Swansensor Turbiwell.
Specifications
Turbidity Meter
Turbidity measurement
for use with SS Turbiwell
Measuring range
0.001 to 200 FNU/NTU
Precision
±0.003 FNU/NTO or 1% of reading
Sample flow measurement
with digital sample flow meter.
Power Supply
Voltage
100-240 VAC (± 10%)

50/60 Hz (± 5%)

or 10-36 VDC
For further information see datasheet in downloads.