Renal Dialysis Total Chlorine Monitor
Taking the hassle out of water testing and monitoring so you have more time with your patients!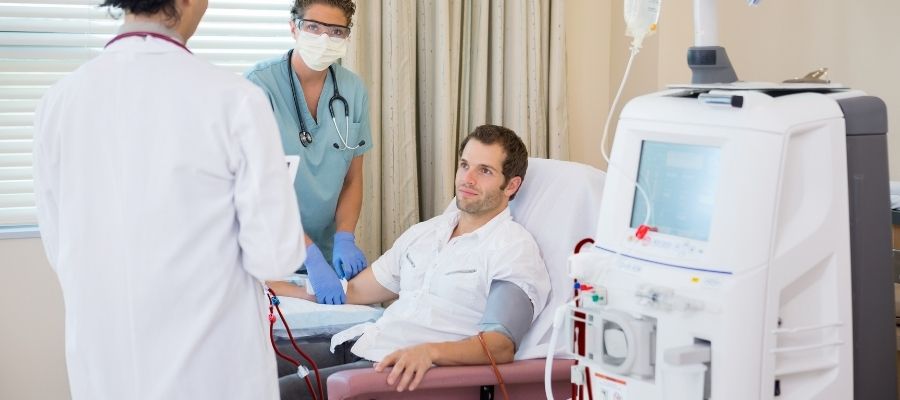 Water Testing In Renal Dialysis

Why is there chlorine in dialysis water?
Chlorine can enter dialysis water with the source town water or is added to disinfect the water and/or machinery used in dialysis treatments. If high levels of Total Chlorine go unnoticed in dialysis water, patients risk developing severe haemolytic anaemia.
Traditional methods used to test chlorine in dialysis water
The standard method for measuring chlorine in dialysis water systems is manual testing by nursing staff. Not only does this take up the nurses' valuable time, but it also allows room for human error or differing interpretations of results. It also means that Total Chlorine is not continuously monitored, and potentially dangerous chlorine spikes may go unnoticed. Our research has also found that many of the testing kits used in renal wards are not sensitive enough to accurately detect the relatively low levels of chlorine in dialysis water. 
The best way to test dialysis water for Total Chlorine
Swan Analytical Instruments' Renal Dialysis Total Chlorine Monitor (Codes-II TC Analyser) continuously monitors Total Chlorine in dialysis water systems, so patients receive the safest water possible. This removes the need for manual testing, providing the medical team with automated and reliable online water monitoring (over 1000 times per week) and early warning alerts if Total Chlorine rises to unsafe levels.
With Swan Analytical Instruments, renal ward teams can be confident that the dialysis water treatment system is healthy, and patients are protected from sudden and unpredictable chlorine surges in the water.
Benefits of using the Swan Renal Dialysis Total Chlorine Monitor
Saving nursing staff time
Accurate, automated quantitative measurements
Increasing staff confidence
No glassware or chance of contamination during testing
Real-time warnings of possibly dangerous levels of Total Chlorine
Accountability of Carbon#1's performance
Data recording and trending, ideal for audits (optional)
Mobile device alarms (optional)
Local 24-hour monitoring (remote optional)
Monitor Total Chlorine after the first carbon bed. Measures 0.1ppm TC.
This renal dialysis ward utilises a Swan AMI Codes II total chlorine analyser to analyser the (RO) Reverse Osmosis water treatment plant pre-treatment after carbon #1 and carbon #2. The AMI Codes II analyser is programmed to take automatic measurements every 10 minutes to meet the EBCT ( Empty Bed Contact Time) of the carbon filter.
In this case, due to rain events, an increased dose of chlorine was injected into the water supply, by the local water authority, which led to an inadvertent increase of chloramine or total chlorine well above the high limit of 0.10 ppm. The Swan AMI Codes II provided warning of impending break-through, enabling staff to safely remove patients from dialysis thus avoiding the risk of severe haemolytic anaemia.
Automatic, accurate and quantitative measurements performed every 10 minutes, by AMI Codes II removes doubt and can provide real time warnings of dangerous increases in chlorine levels.
For more information about how the Swan Renal Dialysis Total Chlorine Monitor can help keep haemodialysis patients safe in your hospital contact our helpful team.
Swan Renal Dialysis Total Chlorine Monitor
Monitor AMI Codes-II TC