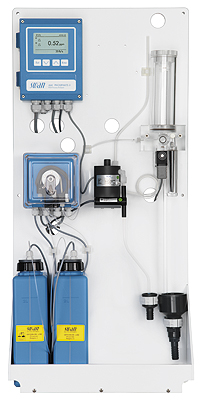 Colorimetric process analyzer for the automatic, continuous measurement of phosphate.
Measuring range: 0.01 to 10 ppm (mg/L) PO4
Based on colorimetric measurement principle according to ISO 6878
Complete system including measurement and control electronics, photometer, flow indicator, reaction chamber, reagent dosing system and reagent containers.
No interferences with silica
Control of sample flow and reagent fill level.
Automatic cleaning module available as option.
Factory tested and calibrated. Provides immediate results.
Optional accessory:
Cleaning module
Communication interfaces (RS-232, Profibus, Modbus, 3rd Signal Output, USB)
Specifications
Phosphate (PO4)  Measurement
Measuring range
0.01 to 10 ppm
Reproducibility
± 0.01 ppm or ± 2.5%
whichever is greater
Measurement time
7 minutes
Cycle time
10 minutes
Power Supply
Voltage
100-240 VAC (

±

10%), 50/60Hz
or
10-36 VDC
Sample conditions
Flow rate
approx. 10 l/h
Temperature
up to 50° C
Inlet pressure
0.15 to 2 bar
Outlet pressure
pressure free
Dimensions
Panel
400 x 850 x 150 mm
For further information see datasheet in downloads.
Contact us to place an order.