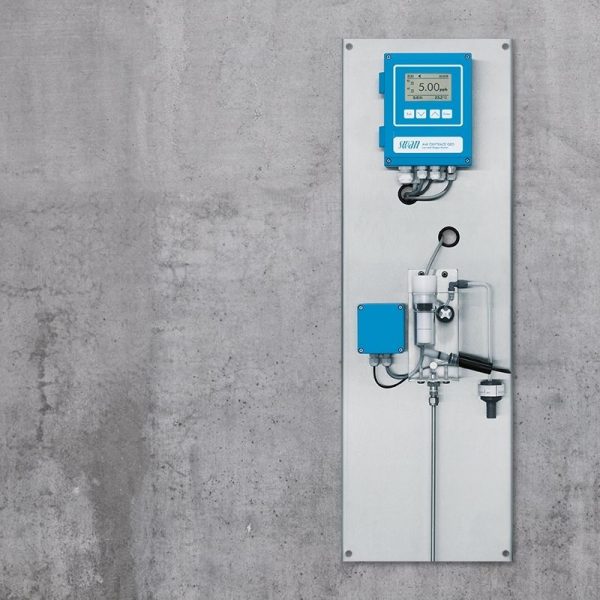 Measurement of dissolved oxygen in high purity water including integrated auto-verification
Faraday electrode setup for automatic or manual verification by electrochemically generated oxygen concentration
Monitoring of electrolyte and membrane integrity
Easy to handle membrane and electrolyte exchange, sensor cap for up to 24 months of operation
Specifications
Measurement of dissolved oxygen in high purity water including integrated auto-verification.
Complete system mounted on stainless steel mounting panel.
Transmitter in aluminum housing (IP 66) with 2 signal outputs for measuring value or for continuous control, 2 relays as limit switch or controller or timer, 1 alarm relay as summary alarm contact, 1 input for potential-free contact.
Flow cell QV-Flow PMMA OTG QED made of acrylic glass with needle valve, faraday electrode and digital sample flow meter on mounting angle made of stainless steel.
Faraday calibrator for the automatic verification of the instrument.
Measuring range with Swansensor OXYTRACE G (at 25 °C):
– 0 – 20.0 ppm O2 or
– 0 – 200% saturation
Process connections:
– Inlet: Swagelok ¼" tube adapter
– Outlet: G ½" adapter for flexible tube Ø 20 x 15 mm, pressure-free
Power Supply
-100-240 VAC (

±

10%)
-10-36 VDC
For further information see data sheet in downloads.
Contact us to place an order.