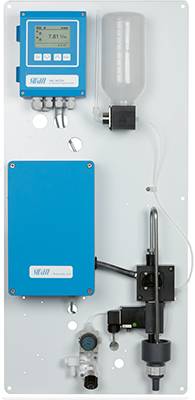 Continuous UV absorption measurement at 254 nm for organic carbon monitoring.
Drift free due to dynamic measurement at multiple path lengths
Features:
Continuous UV absorption measurement with the possibility to monitor the organic load of the sample
Correlation of the absorption to organic carbon related parameters (DOC, TOC, BOD, …) via one-point or two-point calibration or manual configuration of the correlation parameters
Dynamic measurement principle insensitive to fouling of the optical components
Optional turbidity correction at 550 nm according to DIN EN 38404-3
Certified standard solution available for instrument verification
Grab sample functionality for manual measurement, verification and calibration
Complete system mounted on a PVC panel including measurement and control electronics, the photometer, an inlet strainer and a sample bottle for manual measurements
Integrated flow monitoring for measurement validation
Factory tested, ready for installation and operation.
Specifications
UVT Analyser
SAC254 measurement
Measuring range:
0 … 300 /m
0 … 100 % UVT
Parameter:
absorbance, UVT, concentration
Wavelength:
254 nm
Measuring interval:
30 sec. to 3 min.
Precision:
± (1% + 0.01 /m)
Power supply
Voltage
100-240 VAC (

±

10%), 50/60Hz
or
10-36 VDC
Power consumption
max. 35 VA
Sample conditions
Flow rate
2 to 12 l/h
Temperature
5 to 30 °C
(not higher than ambient temp.)
Inlet pressure
0.5 to 10 bar with flow controller option
Outlet pressure
pressure free
For further information see data sheet in downloads.
Contact us to place an order.