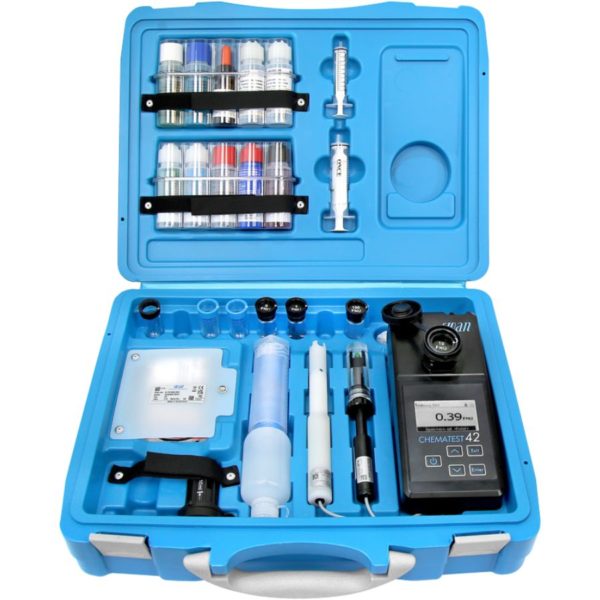 The unique multiparameter device which includes turbidity measurements
Turbidity measurements are fully compliant to DIN ISO 7027-1 and USEPA 180.1. The individual factory calibration of every device guarantees a robust and accurate low-rage turbidity measurement from 0.01 FNU/NTU.
The instrument offers high precision and repeatability of results due to the fixed cuvette position – the cuvette is mechanically aligned to the very same position throughout all measurements which allows a smart cuvette offset management.
All photometric and nephelometric measurement results can be validated at any time with stable, fully traceable standards through the VeriKit accessory
Specifications
Parameters
Photometry:
Disinfectants: free/total/combined chlorine, chlorine dioxide, ozone, bromine, and iodine by the DPD method
Cyanuric acid
pH: photometric with phenol red
Nephelometry:
Turbidity measurement according to
ISO 7027-1
US EPA 180.1 alternate procedure (Registration as alternate test procedure to US EPA 180.1 in accordance with 40 CFR 136.4 pending.)
Sensor-based:
Digital, maintenance-free sensors with long service life available for
pH
Redox potential (ORP)
Specific conductivity
Highest Accuracy
Individual factory calibration of each photometer
Low-range turbidity measurement from 0.01 FNU/NTU with drinking water accuracy
Verification of photometric and nephelometric accuracy with stable, sealed standards
User-friendly Operation
User management and freely configurable sample IDs for comprehensive documentation of results
Intuitive on-screen instructions; choice between detailed guidance and expert mode for fast measurements
Favourites list for quick access to methods
Up-to-date Electronics
Chematest App for data export, instrument configuration, and firmware updates via Bluetooth interface
Powerful, USB-charged lithium-ion battery for approx. 5000 measurements
Memory for 2700 data sets
What's Included
CHEMATEST 42 in carrying case,
2x cuvette holder with integrated sealing lid,
5x glass cuvette,
brush for cuvettes,
6x cleaning wipes,
microfiber cleaning cloth,
sensor storage container,
125 mL dropper bottle,
10/20 mL syringe,
8x syringe filter 0.2 µm in vial,
2x blister pack for 5 reagent bottles each,
USB charging cable,
warranty card,
quick start guide.
Reagents
Swan Oxycon liquid reagents for reliable results and easy and time-saving handling.
Accessories
Verification kit photometry: set of three cuvettes, zero, low, and high absorbance
Verification standards turbidity: Choice of four cuvettes with 0, 1, 10, or 100 FNU/NTU stabilised formazine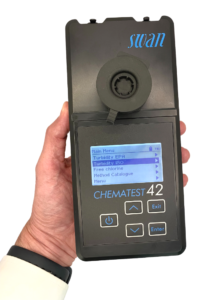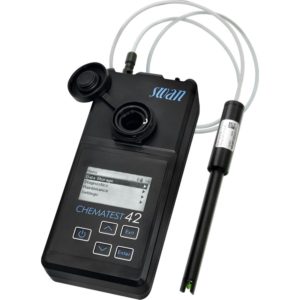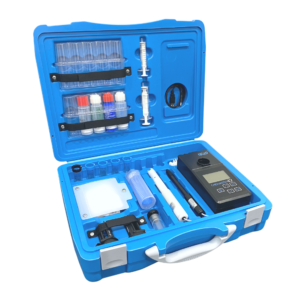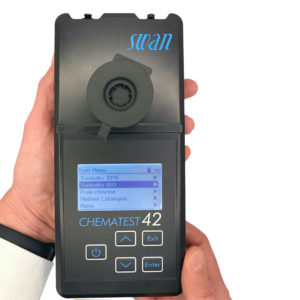 Public Pools
All relevant parameters in one device. Using the proven DPD-method ensures precision and reproducibility of online analytics. Saves maintenance time and costs for pool control and water treatment.
Potable Water
Verify your online measurements for additional security. Handy to use and suitable for even the most remote sampling points where no online monitor can be installed. Suitable from the source to the distribution network.
Pharmaceutical & Life Sciences
Quick and easy QA/QC spot-check analysis to monitor the effective sanitisation of your pharmaceutical water for compliance. Provides confidence in analysis accuracy by using traceable standards for verification of the measurement precision.
Food & Beverage
Operators of industrial plants require verification tools for their online water analytics to maintain the process water. Also, aquarium or fish farming operators require a good water quality monitoring to reduce maintenance costs.