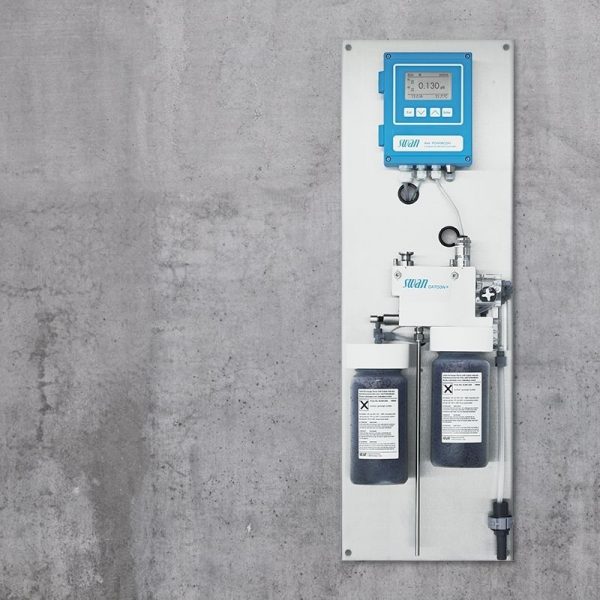 Automatic, continuous measurement of CACE (conductivity after cation exchange)
Temperature compensations for strong acids
Integrated, easy to replace cation exchanger with automatic deaeration
Trail and lead option to provide a second replacement pre-rinsed cation exchanger when first exchanger resin has exhausted
Specifications
Automatic, continuous measurement of CACE (conductivity after cation exchange).
Transmitter AMI Powercon with conductivity sensor UP-Con1000-SL and flow cell Catcon-Plus-SL mounted on a stainless steel panel, ready for installation and operation.
Transmitter with two signal outputs for measured values or continuous control, two relays as limit switches or as controllers, alarm relay as summary alarm indication, input for potential free contact.
The flow cell is equipped with a manual flow adjustment valve, a digital sample flow meter and an integrated cation exchanger vessel with automatic deaeration.
Measuring range: 0.055 to 1000 μS/cm
Sample conditions:
– Temperature: up to 50 °C
– Inlet pressure: up to 2 bar
– Outlet pressure: pressure-free (atmospheric drain)
Sample connections:
– Inlet: Swagelok ¼" tube adapter
– Outlet: G ½" adapter for flexible tube 20 x 15 mm
Power Supply
-100-240 VAC (

±

10%)
-10-36 VDC
For further information see data sheet in downloads.
Contact us to place an order.