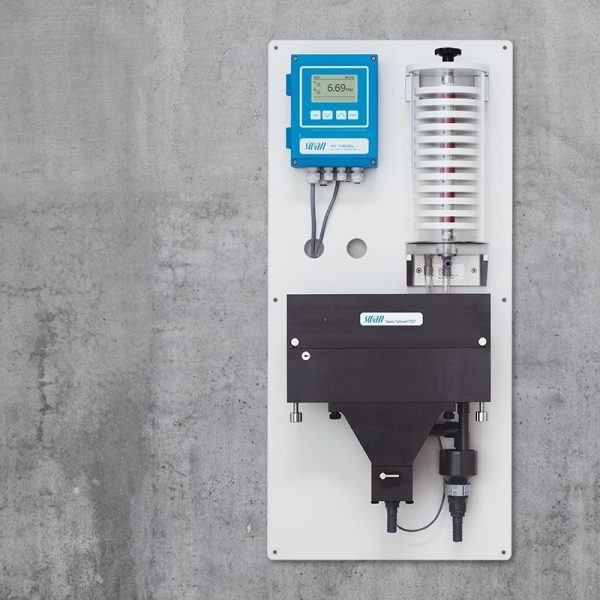 Contact-free, ISO 7027 compliant determination of turbidity under process pressure conditions
No consumables, no wearing parts, no follow-up costs
Heated optics prevent measurement errors and fouling from condensation
Automatic measuring chamber flushing; trouble-free operation without manual intervention
Fast and easy verification with primary and secondary standard
Specifications
High precision, non-contact nephelometer based on ISO 7027 (EN 27027, DIN 38404) for the continuous measurement of turbidity in pure water, potable water, surface water treatment and effluent.
Non-contact turbidity (Nephelometer according to ISO 7027) with control electronics, sample chamber, drain value for chamber purging (manual or automated) and sample degasser (optional)
Complete system mounted on PVC panel (400 x 850mm), factory calibrated (formazine) and ready for operation
Measuring and control transmitter on an aluminium case (IP 66). Two signal outputs freely scalable and with simulation mode. Potential-free alarm contact as summary alarm indication for programmable alarm values and for instrument faults. Monitoring of maintenance requirements.
Measuring Range:
Precision:
± (0.003 FNU + 1% of reading)
Accuracy (based on formazine primary standard):
Range 0 – 40 FNU ± (0.01 FNU + 2% of reading)
Range > 40 FNU: ± 5% of reading
Sample Conditions:
Flow rate: Approx. 20 – 60 l/h
Temperature:
Power Supply:
100 – 240 VAC (±10%)
10 – 36 VDC